I was so happy to be asked by Ana Hays McCracken to join in this "blog-in-the-round." Writers are asked to answer four questions, then pass the torch the following week to two or three other writers (who then answer the same four questions). If you're interested in learning about writers' processes, quirks, or motivations, you'll want to check this out as it makes the rounds. My answers follow.
What am I working on/writing?
I'm working on a new novel. I never thought of myself as being particularly superstitious, but I've discovered the more I talk about something before it's finished, the more out of focus it becomes. So let's just say that the playlist for this book is dark and atmospheric. (Think Great Lake Swimmers, The Civil Wars, Shivaree, Sigur Rós, Portishead, etc.) There's a fictional island involved, and someone meets with an untimely end very early on.
How does my writing/work differ from others in its genre?
Until recently, I don't think I fully realized the impact my degree in landscape architecture has had on my writing. Not only did it give me a greater appreciation of the natural world, but it also taught me to look at things through a close lens, to be cognizant of those small details that ultimately give truth to the fictional world I'm trying to create. It's difficult for me to go back and insert that information after the fact, because I think the way my characters view their surroundings—what they're aware of, as well as what they overlook—is intrinsic to who they are.  
Why do I write what I do?
I started out writing poetry when I was very young (and it was every bit as cringe-worthy as you might expect), then moved on to short stories, and finally, a novel. Just considering the length of a novel was more daunting then coming up with an idea, but now I love thinking that the blank page, or the blank screen, represents the boundaries of an entire world waiting to be created. I'm more interested in pulling characters out of smoke; of writing about things I have no personal experience or knowledge of, than I am in trying to replicate my own life on the page. Research is something I really enjoy, and writing what I don't know allows me to tap into those feelings we often have when coming to something for the first time: excitement, confusion, trepidation. When you're starting a new job, for example, you don't yet know what tasks will become tedious, which co-worker is going to work your last nerve, the small daily wonders that, after months pass, will go unseen. It's all fresh and new at that point.
How does my writing process work?
I'm always aiming for more discipline. I'd like to say I get up at the break of dawn, practice yoga, take a walk and then settle in for quality writing time. But that would be a lie. In truth, I get up and log on to my computer, answer emails, take a walk, settle in with a cup of tea, then try to take care of any writing "business" or correspondence. Mornings are also a good time for me to do research. Afternoons are better for writing, but my best writing time is usually in the evening—it's easier for me to slip into another world once the sun has gone down. The exception to that is when I'm close to finishing something. By that point, I feel like I'm living in whatever world I've created, and it's easier to just stay there and write, and write, and write, regardless of what time of day it is.  
Next week's Blog Hop – Meet three wonderful writers who will answer the same questions I did: Andrea Miles, Renee Swindle, and Heather Haven.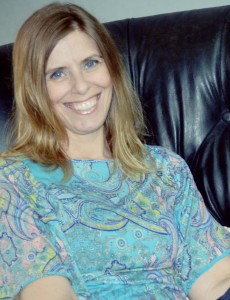 Andrea Miles
Andrea Miles earned her Masters of Professional Writing from the University of Southern California. Originally from Pocomoke, Maryland, she currently lives in Birmingham, Alabama with her husband and three sons. Trespassers is her first novel. To learn more, visit her at www.andreamiles.com or find her on Facebook at https://www.facebook.com/THEandreamiles.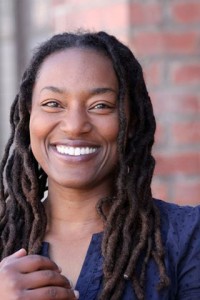 Renee Swindle
Renee Swindle's first novel, Please Please Please, was an Essence Magazine/Blackboard bestseller. Shake Down The Stars, was published August, 2013. Says RT Book Reviews: "Shake Down The Stars is a true gem. Beautifully written. Themes of love, loss, and addiction will reach into the reader's soul." Her latest novel, A Pinch of Ooh La La, will be released August 5th. Renee lives in Oakland, California where she can be found baking, writing, and walking her dogs. Visit her blog at http://www.reneeswindlebooks.com/blog/.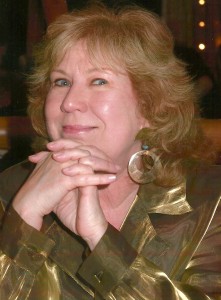 Heather Haven
Heather Haven's first novel in the humorous Alvarez Family Murder Mystery Series, Murder is a Family Business, won the Single Titles Reviewers' Choice Award 2011. The second, A Wedding to Die For, received 2012 finalist nods from both Global and EPIC for Best eBook Mystery of the Year. The third in the series, Death Runs in the Family, won the Gold, Dan Poynter's Global eBook Award Mystery Fiction 2013. Her stand-alone noir mystery, Death of a Clown, won the IPPY Silver for Best Mystery/Thriller 2014. The novel is steeped in Heather's family history at Ringling Brothers and Barnum and Bailey Circus. She brings the Big Top to life during World War II, embellished by her own murderous imagination. The Dagger Before Me and Iced Diamonds, Books One and Two of the humorous Persephone Cole Vintage Mysteries, were #1 in Amazon's Historical Mystery and General Humorous categories in October, 2013. Heather attended the University of Miami and ended up as a writer in New York City, writing humorous commercials and ad copy for No Soap Radio. There she fulfilled her dream of writing comedy and getting paid for it. She has also written comedy acts for performers, television treatments, and two one-act plays, which were produced at several places, including Playwrights Horizon. Once, she even ghostwrote a book on how to run an employment agency. She was unemployed at the time. Visit Heather at http://www.heatherhavenstories.com/home.